It's almost time for us to cruise again! This time we are going on a seven day Eastern Caribbean cruise. It will be our first seven day cruise and our first trip to the Eastern Caribbean so we are both really excited. I love cruising but I HATE packing for it! A few years ago, I figured out that I must make a list or surely I will forget something. I've also learned what I need to take and what can stay at home. I try to keep the packing under control and limit myself, otherwise I'll way overpack!
Since there's only the two of us, I limit myself to one large suitcase (checked in), a garment bag (also checked in and used for dresses and DH's suit), and a small rolling carry-on suitcase with a Vera Bradley grand traveller bag that will slide onto the handle of the carry on. This provides more than enough room for us to pack everything we need, and still have some room for souvenir purchases that we make while ashore. 🙂
I like to pack sample/travel size items when I can. They can be a real space saver when packing, and because they aren't returning, there is extra space in the luggage for purchases made while on your trip! Here's some examples of what I like to pack: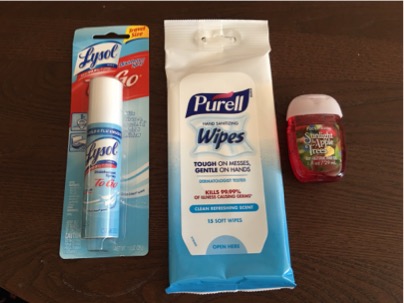 Lysol spray, Purell hand wipes (for before and after eating), and hand sanitizer (Not pictured: Lysol wipes)
Note: always bring some type of air freshener spray. The cabins are close quarters and you don't want any weird smells in there. Also, no-one wants to catch the norovirus! Always keep sanitizer in your pocket! I like to wipe down counter tops and door handles with the Lysol wipes, and also that stick that moves the curtains back. Imagine how many dirty hands have touched that! I do this a few times during the cruise to keep germs in check!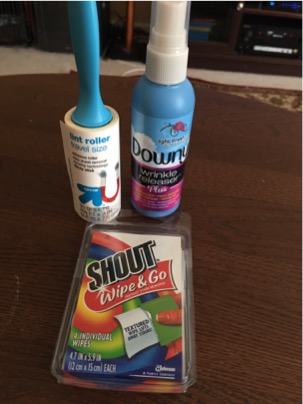 Lint Roller, Downy wrinkle release spray, Shout wipes (not pictured: Tide PODS and dryer sheets)
Quick and easy laundry fixes! I pack a couple of Tide PODS and dryer sheets to use when washing. I know for some, laundry isn't exactly a "vacation", but you can save space in your suitcase by washing a quick load of laundry and re-wearing items like socks, t-shirts, undies, etc. I usually just wash one load about half way through the cruise, and one towards the end if we have a sea-day. It saves me a little washing when we get home, too! I'm not sure if all ships have laundry facilities, but I do know that most Carnival ships do.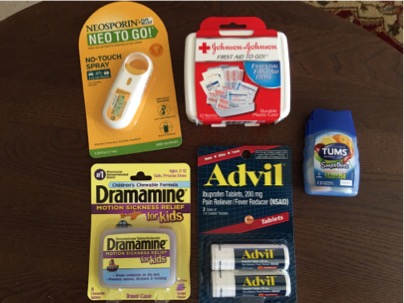 My little pharmacy: Advil, Tums, Dramamine, Neosporin and bandaids. (Not pictured: Immodium)
You never know what might happen, headaches, seasickness, belly pains from eating so much! Pack a little kit to avoid paying the high cruise ship costs for common meds. Also…the medical facility onboard usually gives out sea sickness pills for free.
I use the children dramamine because it is half the adult dose. I take it every morning to prevent sea sickness. If I need more, I feel ok about taking another pill. Check with your doctor to see what's best for you. Also remember any prescriptions that you need to take!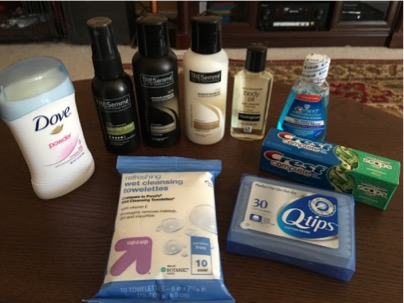 Travel size deodorant, shampoo, conditioner, hair spray, body oil, toothpaste & mouthwash, Q tips, make up remover wipes
What a space saver! Those big bottles of shampoo, etc can really take up space and not to mention they are HEAVY too!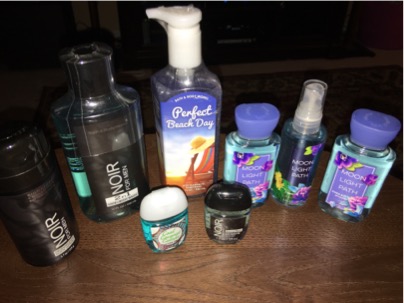 Travel size body washes come in so handy! I also pack my own hand soap and plenty of hand sanitizers. (Not pictured: travel size face wash and moisturizer)
Here's the list of the items in this post, with some that were not pictured:
Lysol spray travel size
Lysol wipes
Downy wrinkle release spray
Lint roller
Tide Pods/Dryer sheets
Prescription medications
Motion sickness pills
Bandaid/Neosporin
Hand wipes/ sanitizer
body wash
shampoo/conditioner
face wash
moisturizer
Hand soap
deodorant
toothbrush/toothpaste
Not pictured:
Sunscreen (VERY IMPORTANT!!!)
Insect repellent (especially when going to Mexico or anywhere that has a Zika virus problem)
After-sun balm/lotion
razor and shaving cream
Stay tuned for Part 2 coming soon!