Our Honeymoon officially began the morning of Sunday, May 30th, and after we dropped our two lovely cats off at the boarder, we were on our way to Tampa! Our cruise ship would depart the following day, and we wanted to allow all the time we may need to get there, so on the way to Tampa we drove! Sunday night we stayed at a hotel on Tampa Bay. We didn't arrive until around 11pm, so we really didn't see much that night, but we got a much needed good night's rest after the 9 hour road trip!
Monday we met with Mike's old friend Kate and her boyfriend Paul and had a nice lunch with them at Bahama Breeze on Tampa Bay. It was a very tropical place, with lovely plants, and it was just perfect for getting us into a tropical mood!
Bahama Breeze, Tampa Bay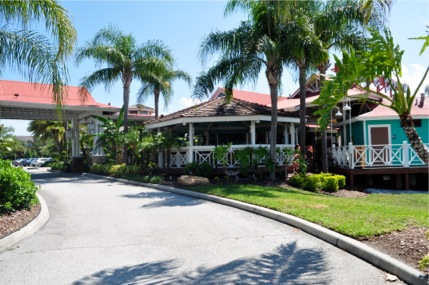 It was great to finally talk more with Kate and Paul. I had never met them before our wedding, and I wasn't able to spend alot of time talking to them there. They let us leave the little red Jeep at their house while we were gone, which was GREATLY appreciated! The dropped us off at the dock and on the cruise ship we went!
View of Tampa as our ship was leaving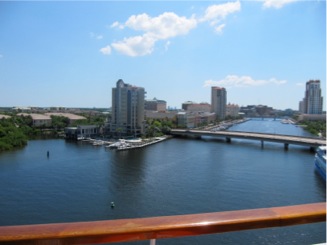 The first night aboard the ship was so exciting. We went exploring this massive ship, that had everything from restaurants to miniature golf to stages for the many shows they offered. It was our first cruise, and we wanted to see EVERYTHING!
Life ring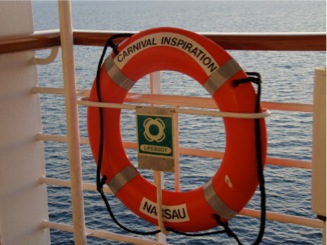 The sunset was AMAZING. It was absolutely beautiful. Mike had never before sat and watched a sunset, so I made it a point for him to see it. He was amazed, of course, at the beauty and purity and perfection of this gift from God.
Sunset over the Gulf of Mexico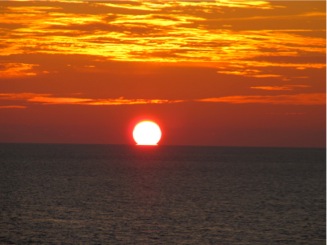 After watching the sunset, we went and ate dinner, walked around the ship some more, then returned to our room with our first "animal towel" waiting for us. We think it's a seal, who, by the way, was wearing Mike's glasses! haha!
It was a great first day of our cruise! And next, a full day at sea! More to come later!